The title is a question. What is blog writing? The answer would be writing & managing a blog.
It spurs the next question. What is a blog? – It is a short form of weblog. A personal (Now, multipurpose!) diary or journal in its original concept. A journal that displays posts in reverse chronological order, so the latest post appears on the top, fresh, and with updated info.
Well, who does write a blog? A blog writer or in other words, a blogger who is proficient at justifying the type of blog in question. However, the core question remains here to express. Why a business needs a blog? By definition, a blog is a personal diary, so why businesses opt for it? I think the image below would illustrate the right answer well.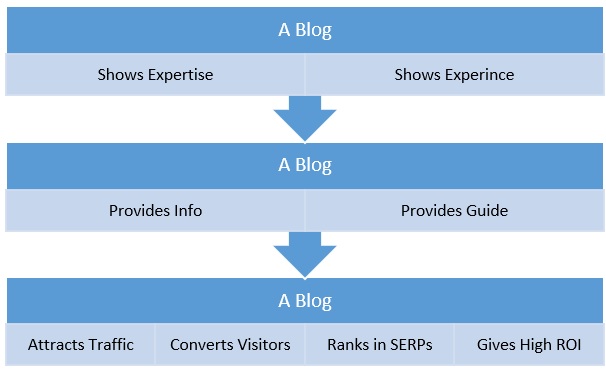 Types of Blogs
Yes, different types of blogs existing in the world of the internet (The web). For instance,
Personal blogs: The personal bloggers treat their blogs personal diaries or journals and pour most of the thoughts in it that their commonsense allows!
Professional blogs: Usually, different kinds of professionals like various blue-collar service providers (plumbers, electricians, mechanics, locksmith, carpenter, etc.) also love to share their expertise via blogs and get business out of it.
Business blogs: SMBs and sizable brands who sell their products or provide high-end services are running business blogs using professional content writing services or allocating a team of niche experts who accustomed to writing.
Niche blogs: It is about business or industry niche, including travel, food, healthcare & fitness, music, fashion & apparel, wellness & beauty, and an exhaustive list about the various niche.
Generic blogs: Political blogs, DIY blogs, parenting blogs, pet blogs, and many similar kinds of generic activities also lead to creating blogs by the people/sponsors who immersed in it.
Reverse blogs: In other words, it is guest host blogs. Guest blog sites allow submission of relevant content to publish as guest blogs, and they usually moderate it keeping some standards prevailing in the industry.
Affiliate blogs: Here, bloggers aim to generate affiliate sales or commission by attracting a huge crowd and get converting clicks from it.
News blogs: Usually, news publishing houses and media or magazines are running specific blogs to augment relevant topics published in the news and target to gain the attention of public by-and-large.
Types of Bloggers
Anyone can write a personal blog or diary online, but professional blogging demands some expertise, including command over blogging language, subject matter, and, most importantly, the ability to judge the target audience.
However, everyone or each business on the planet Earth is not lucky enough to acquire such skills and expertise and experience as well. The business teams always are busy with the core activity and avoid indulgence in the writing process.
Recent evolution in blogger community used to offer blogging services in different forms, such as
In-house bloggers who work as a part-time or full-time employee in the business house or the company based on salaries.
Freelance bloggers (like me!) are offering remote blogging services using awesome working tools available online like communication, file exchange, content calendar, and many.
Blogging service provider companies working in a team or collaboration with other freelancer bloggers to deliver completely professional content for blogs respecting the content calendar of clients.
Standard Blog Post Structure
Today, the basic blog structure or layout of the blog contains a few different components. Let me give an outline of some essentials visually.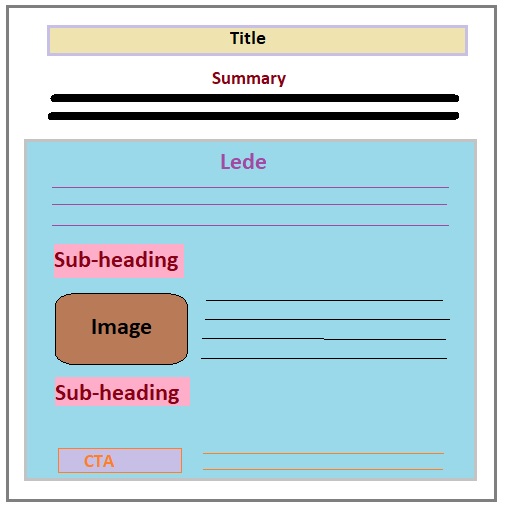 How Would You Create Grate Blog?
Get inspiration for an eye-catchy title or headline that includes your primary keyword.
Write a concise summary that indicates what is in the blog, including the aim of the blog.
Write compelling & proper Lede of Lead that matches the type of blog and serves its purpose. Refer my blog on Lede to get some clues.
Use several sub-headings from H2 to H6 to fragment the blog in logical ways and improve scanning ability.
The use of bulleted points is another way to improve the scanning ability of the blog content.
Insertion of images and videos like multimedia content can enhance comprehensibility and visual appeal.
Proofreading, editing, correction, polishing, and revisions can make content palatable and perfect at the polished language point of view.
Finally, CTA or conclusion must give a brief outline of what included in the content and what actions needed from readers.
Sometimes, writing author-bio is compulsory, and it requires links with proper anchor text.
Keep blog length on an average of 1500 words to get the best ranking.