Many have confusions for different content writing services. The post is giving clues regarding what is article writing at a glance.
Initially, the article was written keeping a large audience in mind and mostly published in newspapers, magazines, journals, and other print media channels. The most common types of articles, according to Wiki-How, were falling in one of the following categories.
Types of Classic Articles in Print Media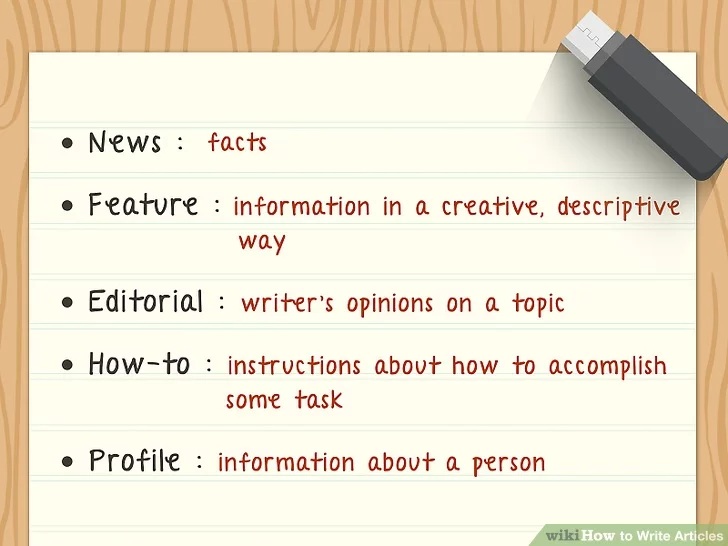 News type of article presents hard facts about something that happened recently or likely to happen in a short future. News articles usually cover 5W & H (What, Who, Where, When, Why & How) quickly.
Features type of article covers a person, phenomenon, place, or similar subjects in detailed, creative, and descriptive ways.
Editorial types of articles are mostly reserved for strong opinions and debate on highly sensitive topics in the society or government.
How-To article as its name suggests how-to topics with clear instructions to accomplish a designated task in it.
Profile article provides details of a celebrity or a known entity/personality in any field and usually based on interviews & background research.
Types of Modern Articles on the Web
With the advent of the web, consumption of print media has declined a lot, and a big portion of the audience is now present on desktops/laptops and mobile devices like smartphones & tables. It has brought changes in article formats too. So, at present, only short articles and long articles are demanding from the content writers.
Short articles usually contain less than 1,000 words.
Long articles consist of more than 1,500 words.
Digitalization of content media has influenced types of articles based on the way they are presenting on the media. For instance,
List-based articles provide lists with sub-headings or in bulleted formats. People love lists a lot and prefer scanning it rapidly rather than reading it entirely. It may go up to 3K words long.
Slideshow-based articles are multimedia type and images or videos accompanying texts in a moving slide way of presentation. Usually, texts are in a few lines, but some contain long para with a detailed image.
Hybrid-Visual articles are chiefly containing images, GIFs, and videos along with descriptive texts for each multimedia content. Formats for visual rich articles prefer tabular format rather than slides. Bulleted points also used in it.
Format for Article Writing
Seasoned article writers use a standard format prevailing in the industry and keep the following points in an organized manner in their writing for articles.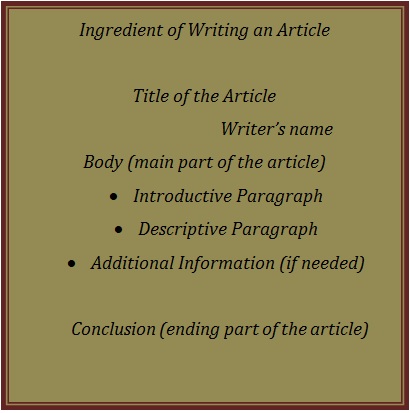 Title or heading
Byline giving the name of the author
Introduction to describe the purpose of writing an article in a short & sweet way.
The body is with a few to several paras as the main part of the article to serve its purposes.
The conclusion is to give an extract of an article in a few sentences and inspire readers to take intended actions with right CTA content.
Main Steps to Follow in Article Writing
There are many ways to start and end the article writing, but here I am giving some common and important steps only.
Carry research to define a topic for article writing. It can lead you to define your target audience, the purpose of the article, and ways to find resources for it. SEO professionals have tools to run keyword research and based on it, find topic options.
After enough, brainstorming writes a catchy, keyword rich, and comprehensive title for your article, it could be a bit longer but within SEO guideline.
Once you have a heading or title, your research task will become easy and fast. Collect enough statistics to support your arguments.
Now, prepare a draft for a layout, including headings and sub-headings in your article.
You also should collect the multimedia content, mostly images, and graphs, to make it visually rich and fast to scan.
Take interviews if needed for the interview-based articles. Record the speech and transcribe it in useful texts.
Organize all resources in a logical presentation and start writing.
Write introduction para in the most engaging tone.
Write a summary of the article after finishing the conclusion section.
Ask clients or SEO team working on behalf of a client for anchor texts writing preferences and give appropriate links within the article.
Most of the article directories prefer link-building activities in author-bio section. So, follow those guidelines.
Characteristic of Article Writing
The following characteristics of an article differentiate it from a blog.

Most of the articles demand a formal approach, not mundane, and revolve around the goals or subject using facts and analysis.
The reasonable length for short article should 500 plus words and for long, 1500+ words.
Articles often contain detailed content rich with images, graphs, facts, figures, and analysis.
Being sophisticated and formal format, articles mostly use the third person pronounces in the singular as well as plural forms. He/she, his/her, it/its, their/theirs, and so on.
Articles often published in a periodic manner following a set content calendar or schedule.
Being formal content, articles hardly support personal perspectives or opinion, rather it follows the fact based on statistics available with solid and standard references. Therefore, citing references at the end of the article is a practice, and on the web, inline links are serving the same.
Modern SEO practices also prefer SEO keywords in an article. Otherwise, print media is not at all.
Articles include various reports and data based on known and authenticated publications like government and universities and follow the literature in a journalistic style. So, article writers always demand higher pay based on the work involved in it.
Article publication involves the role of editorial to clean it and approve it.
However, today, due to buzz in content marketing, the majority of clients and content writers have blurred the lines between article and blog formats and writing styles. However, publication houses, enterprises, universities, and government bodies are strictly following standard guidelines and keep formal articles apart from informal blogs.